Special features for your daily open BIM workflow
Bimplus is your cloud based collaboration platform for construction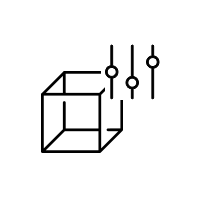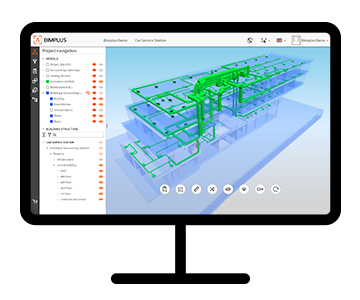 Project Navigation - Navigation
Animation Window, Object Navigator, Task Board, Clash Detection, Project Slide Shows, Multi-Model Manager, Object Details and Attachments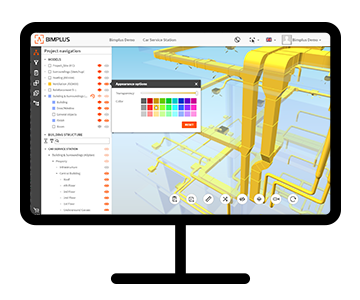 Project Navigation - View Settings
Display models from different domains in a common view. Use transparencies and different colors to distinguish the individual BIM models.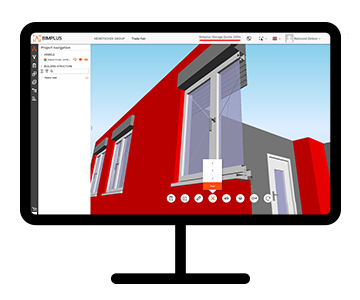 Project navigation - View Controls
Measure lengths, Section the Models, hide Object(s), isolate objects, select view, reset viewport and create tasks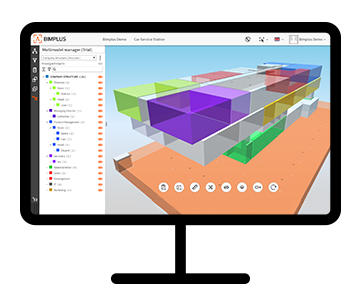 Model Management
Break models into smaller sub-models
Each sub-model can be assigned to individual objects with attachments
Supports many processes to help manage model data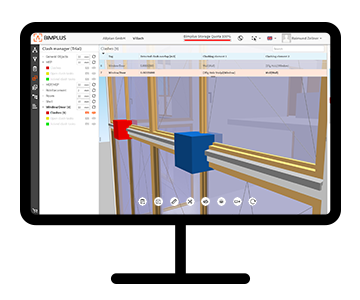 Clash detection
Identify clashes
Coordinate & inform project members
Maintain full control over models coordination
---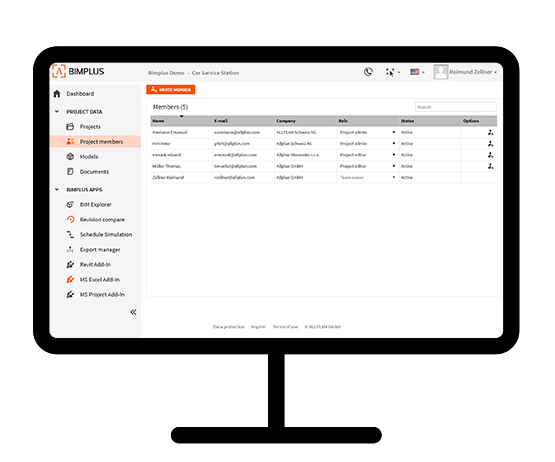 Project members
Invite project members via e-mail
Control user access rights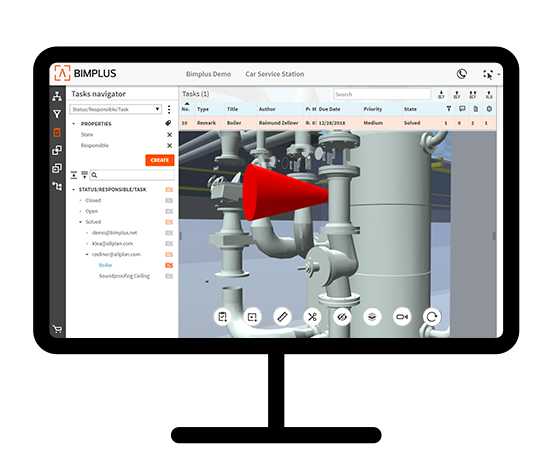 Taskboard
Ensure project members are always informed
Create, retrieve and edit tasks directly
Place markers in the model
Attach comments
Attach hyperlinks 
---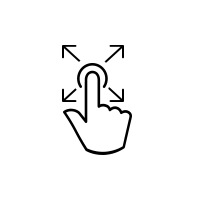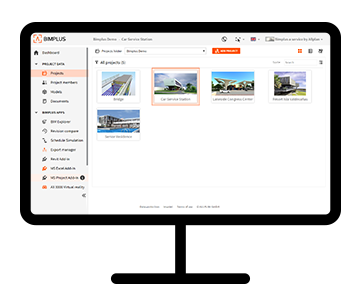 Project Management - Project Selection
Select projects from tiles, lists or OpenStreet map.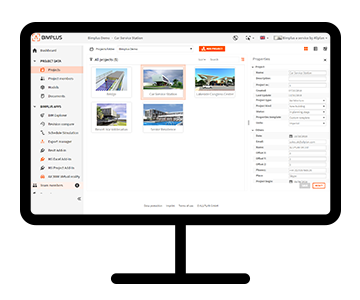 Project Management - Project Attributes
Add properties and attributes manually or using templates.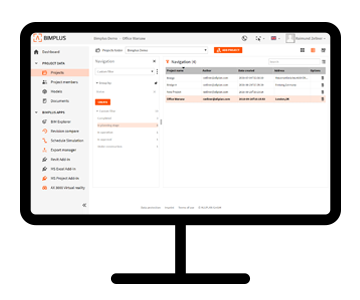 Project Management - Project Filters
Use filters to sort and search custom attributes. Save filters to apply to other projects quickly and efficiently.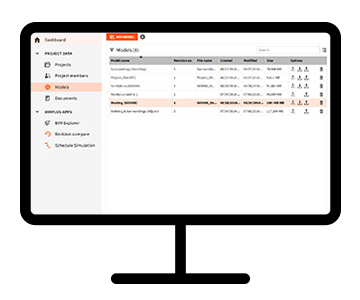 Model Management - Add Models
From :
Allplan (2018 +) – Using the Pallet
Revit – Using the Revit Add-in App
Sketchup - Import .skp files
OpenBIM – IFC2.3 & IFC4 files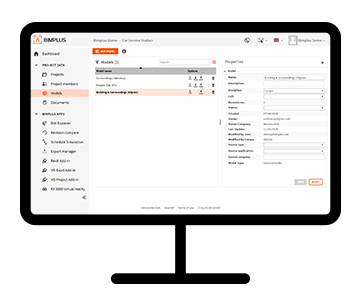 Model Management - Model Attributes
Enriched model data with additional properties and attributes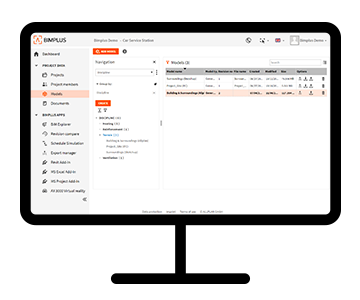 Model Management - Model Filters
Apply comprehensive filter criteria to provide a greater level of control and traceability of all models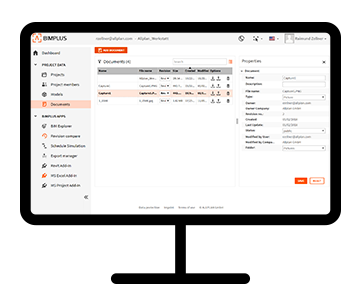 Document Management - Add documents
Quickly access all project documents stored centrally on Bimplus such as contracts, plans, invoices, specifications, calculations etc.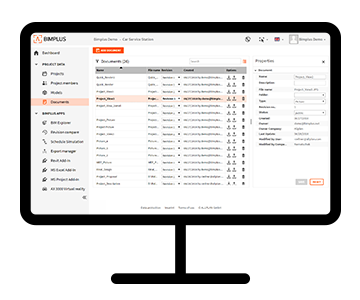 Document Management - Document Attributes
Enriched documents with additional properties and attributes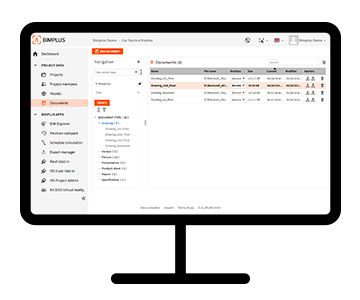 Document Management - Document Filters
Apply comprehensive filter criteria to provide a greater level of control and traceability of all documents in your project
---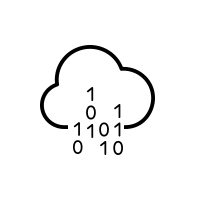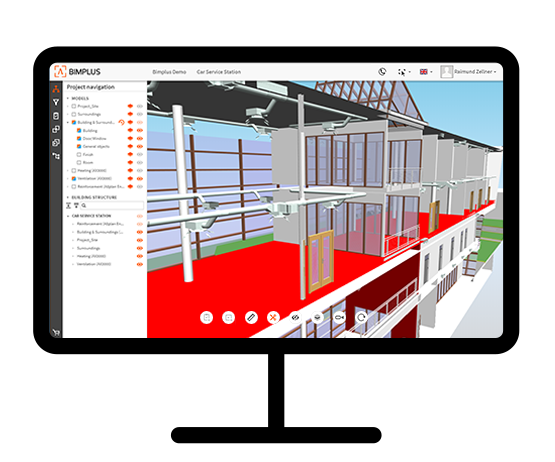 Object details & attachments
Access object-specific information
Add, amend, retrieve all object attributes and attachments
Add comments
Add hyperlinks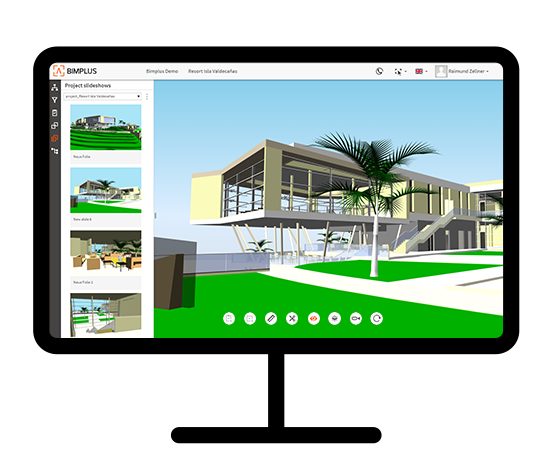 Project slideshows
Prepare individual presentations
Save perspectives of views as slides
Combine slides to form a slide show
Playing mode automatically sets the camera to the correct position for easy communication
---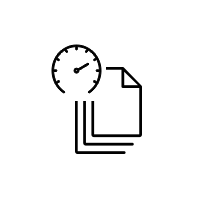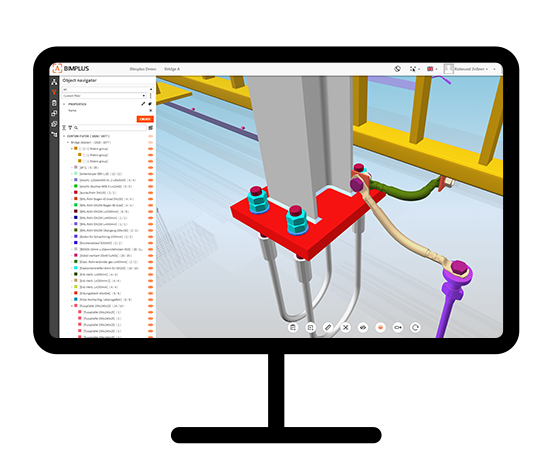 Object navigation
Verify & validation model data
Interrogate attributes and attachments
group objects together
Apply custom filters
Isolated individual objects
Highlighted with user defined colors
Save and reuse filter criteria
---
Get in touch with Bimplus now